Classroom Locks
The University began installing locking mechanisms on the pool classrooms in 2018.  These locks are intended for security purposes only (shelter in place).  The locking mechanisms are designed to only engage when the door is closed and the room occupant activates the lock. Opening a locked door from the inside, or locking the door while ajar and allowing it to swing shut, will disengage the lock.  Should a classroom be locked, it should be assumed that someone is in the room. Call University Police at 292-2121—they will unlock the door and deal with the occupant. For additional information please view Department of Public Safety classroom locks video.
There are 3 types of locks currently installed.
Thumb Latch
Push bars
Pull-stations
Thumb Latch
Typically installed on smaller rooms.
The lock consists of a simple thumb-turn.
The status of the lock is visible from inside the room.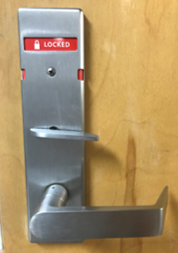 Push Bars
Doors with Push or "Panic" bars require a more sophisticated lock.
They have a keypad on the outside. This is only used in the programming of the lock by the installer.
The door can be locked from the inside by pushing the button with the image of a padlock on it.
The button will flash red when the lock is activated.
The button will flash green when the lock is deactivated or the door is opened.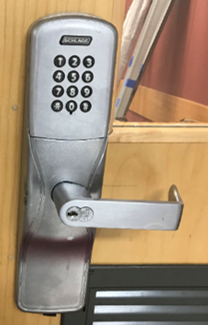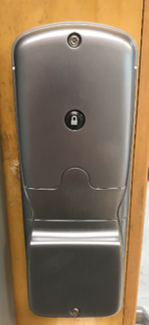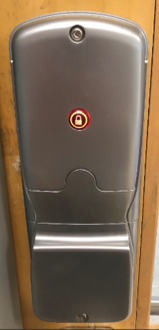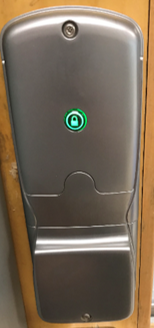 Pull-stations
Typically only in large lecture halls
Multiple blue pull-stations throughout the room
Activating a pull-station locks all doors in the room
Indicator light changes from green to red
A duress signal is sent to Public Safety
Only Public Safety can reset the system
In the event of a power outage, the doors will lock